Client: Nanchang Navigation Investment Co., Ltd.
Location: Hongdu, Nanchang
Design: 2016
Construction: 2016
Site Area: 1651 ㎡
Floor Area (Old Building): ≈2100 ㎡
Floor Area: 2750 ㎡
Project Manager: Liu Xiangyi
Project Architect: Milutin Cerovic, Jiang Qingzhou
Team: Liao Mengjun, Matt Eshleman, Hu Qiming, Liu Kan
Collaborator: BXHH Architects
Zhongnan Construction Group
Honghai Facade Co., Ltd.
YIYU Design Limited
Photographer: CreatAR Images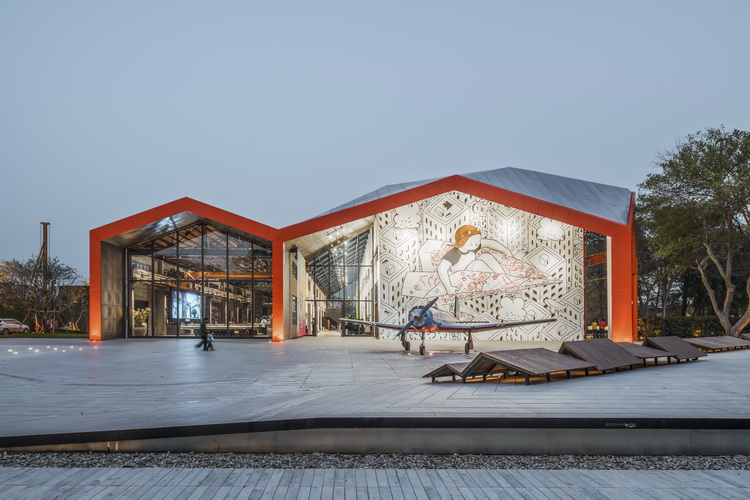 The Hongdu Aviation Factory was the core production center of fighter jets for China since the early days of the P.R.C. in the 1950s. The people of Nanchang City still remember the glory and dreams of that time. Now that the old industrial zone that carries the history of China's aviation industry will be transformed into a new part of contemporary urban life, a very significant goal of this project is to create a protective transformation strategy to represent to the public the significance of the historical context of the aviation city, to recall the feelings of the golden years of the past, to preserve the memory and pride of generations in the city.
The rapid development of China has led to the destruction of many buildings and residential areas which have historic and artistic value. The initial problem is that people lack the awareness of the preservation of historic buildings, a symptom of the overall social environment. This project is a renovation project of just two old factories in the industrial zone. At the same time, it serves as a starting point for the transformation of the old city in the entire industrial zone, and therefore has profound significance for the subsequent renovation projects. We hope our design can awake the public's re-recognition of historic architecture, and can witness the important moment that a normal warehouse transforms into an avant-grade fashion showplace. What a good design can convey is not limited to its form, but also the philosophy behind it. After the project was completed, it was very well received by the public, thus fulfilling its original goal.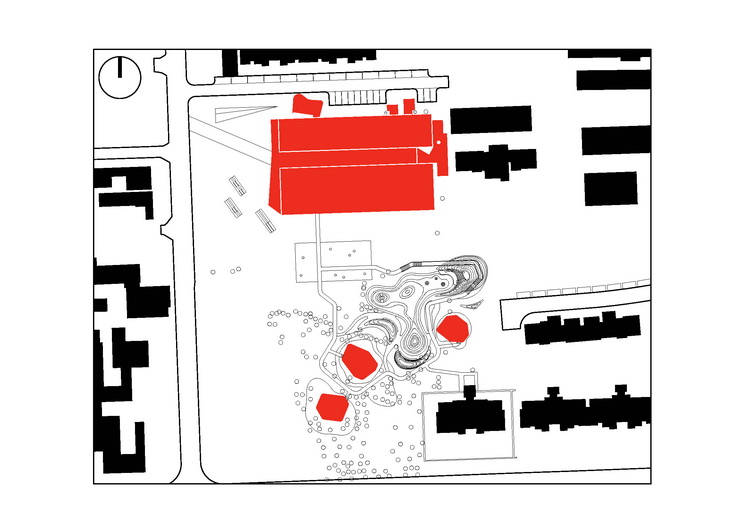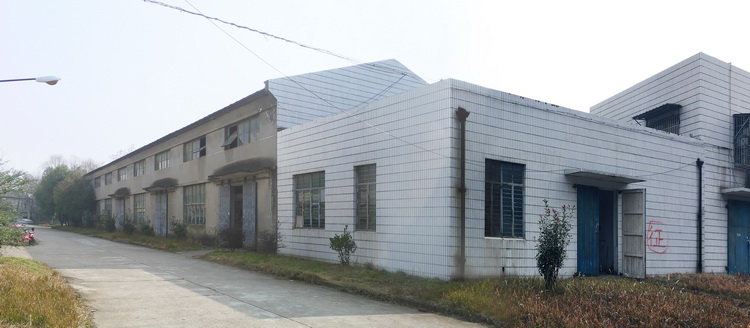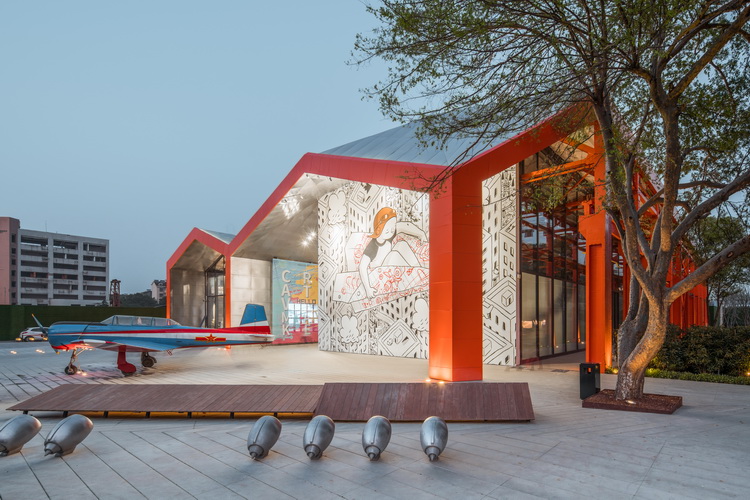 There are several interventions worth mentioning in this renovation design: the first is the entrance treatment, which creates a porch space by extending the roof outline from the gable to reinforce the entrance and change its body contour; the second is to cover the space between the two buildings, which creates an atrium space for public activities; the third is to cover the original steel structure and the entrance facade of the factory building with orange paint to inject new vitality; the fourth is to demolish the outer wall of the south facade and replace it with glass in order to make the indoor space more transparent and open to the outside; the fifth is to insert a free-form volume on the other side of the building, and to use a mirrored stainless steel material to metabolize the texture of the aviation city; the sixth is to introduce a huge art painting that extends from the entrance to the atrium, which abstractly captures the historical memory of Hongdu Aviation; the seventh is to preserve the large LED screen that can be moved by the original crane hanging in the factory; the eighth is to design an art device with aluminum alloy triangular components, which has become the highlight of the interior.