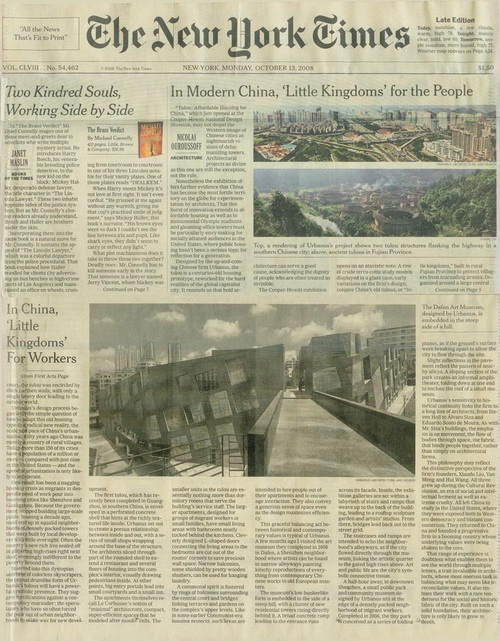 "Tulou: Affordable Housing for China," which just opened at the Cooper-Hewitt National Design Museum, may not dispel the Western image of Chinese cities as nightmarish visions of dehumanizing towers. Architectural projects as divine as this one are still the exception, not the rule.
Nonetheless the exhibition offers further evidence that China has become the most fertile territory on the globe for experimentation by architects. That this burst of innovation extends to affordable housing as well as to monumental Olympic stadiums and gleaming office towers must be particularly envy making for socially attuned audiences in the United States, where public housing hasn't been a serious topic for reflection for a generation.
Designed by the up-and-coming Chinese firm Urbanus, the tulou is a centuries-old housing prototype, reworked for the hard realities of the global capitalist city. It reminds us that bold architecture can serve a good cause, acknowledging the dignity of people who are often treated as invisible.
The Cooper-Hewitt exhibition opens on an atavistic note. A row of crude terra-cotta study models displayed in a glass case, early variations on the firm's design, conjure China's old tulous, or "little kingdoms," built in rural Fujian Province to protect villagers from marauding armies. Organized around a large central court, the tulou was encircled by thick earthen walls, with only a single heavy door leading to the outside world.
Urbanus's design process began with the simple question of how to adapt this old housing type to a radical new reality, the scale and pace of China's urbanization. Fifty years ago China was mostly a country of rural villages. Today more than 150 of its cities have a population of a million or more — compared with just nine in the United States — and the speed of urbanization is only likely to accelerate.
One result has been a nagging housing crisis as migrants in desperate need of work pour into booming cities like Shenzhen and Guangzhou. Because the government stopped building large-scale public housing a decade ago, most end up in squalid neighborhoods of densely packed towers that were built by local developers with little oversight. Often the country's new rich live sealed off in glittering high-rises right next door, seemingly indifferent to the poverty around them.
Inserted into this dystopian universe of colorless skyscrapers, the primal drumlike form of Urbanus's tulous will have a powerful symbolic presence. They suggest fortifications against a contemporary marauder: the speculators who have so often forced the poor out of urban neighborhoods to make way for new development.
The first tulou, which has recently been completed in Guangzhou, in southern China, is enveloped in a perforated concrete shell that hints at the richly textured life inside. Urbanus set out to create a porous relationship between inside and out, with a series of small shops wrapping around the base of the structure. The architects sliced through part of the rounded shell to extend a restaurant and several floors of housing into the complex's interior, visually drawing pedestrians inside. At other points, big entry portals lead into small courtyards and a small inn.
The apartments themselves recall Le Corbusier's notion of "minimal" architecture, compact, super-efficient spaces that he modeled after monks' cells. The smaller units in the tulou are essentially nothing more than dormitory rooms that serve the building's service staff. The larger apartments, designed for groups of migrant workers or small families, have small living areas with bathrooms neatly tucked behind the kitchens. Cleverly designed L-shaped doors connecting the living areas to the bedrooms are cut out of the rooms' corners to save precious wall space. Narrow balconies, some shielded by pretty wooden shutters, can be used for hanging laundry.
A communal spirit is fostered by rings of balconies surrounding the central court and bridges linking terraces and gardens on the complex's upper levels. Like in some earlier Communist-era housing projects, such areas are intended to lure people out of their apartments and to encourage interaction. They also convey a generous sense of space even as the design maximizes efficiency.
This graceful balancing act between historical and contemporary values is typical of Urbanus. A few months ago I visited the art museum they completed in 2006 in Dafen, a Shenzhen neighborhood where artists can be found in narrow alleyways painting kitschy reproductions of everything from contemporary Chinese works to old European masters.
The museum's low bunkerlike form is embedded in the side of a steep hill, with a cluster of new residential towers rising directly behind it. A broad concrete ramp leading to the entrance runs across its facade. Inside, the exhibition galleries are set within a labyrinth of stairs and ramps that weave up to the back of the building, leading to a rooftop sculpture garden and artists' studios. From there, bridges lead back out to the street grid.
The staircases and ramps are intended to echo the neighborhood's alleyways, as if the city flowed directly through the museum, linking the artistic quarter to the gated high rises above. Art and public life are the city's symbolic connective tissue.
A half-hour away, in downtown Shenzhen, a small public park and community museum designed by Urbanus sits at the edge of a densely packed neighborhood of migrant workers. Completed in 2006, the tiny park is conceived as a series of folding planes, as if the ground's surface were breaking apart to allow the city to flow through the site.
Slight inflections in the pavement reflect the pattern of nearby alleys. A sloping section of the park creates an informal amphitheater, folding down at one end to enclose the roof of a small museum.
Urbanus's sensitivity to historical continuity links the firm to a long line of architects, from Steven Holl to 羖varo Siza and Eduardo Souto de Moura. As with Mr. Siza's buildings, the emphasis is on movement, the flow of bodies through space, the fabric that binds people together, rather than simply on architectural forms.
This philosophy may reflect the distinctive perspective of the firm's founders, Xiaodu Liu, Yan Meng and Hui Wang. All three grew up during the Cultural Revolution, an era of social and intellectual ferment as well as extreme cruelty. All left China to study in the United States, where they were exposed both to Western democracy and blatant consumerism. They returned to China and founded a progressive firm in a booming country whose underlying values were being shaken to the core.
That range of experience is doubtless what enables them to see the world through multiple lenses, a trait invaluable to architects, whose most onerous task is balancing what may seem like irreconcilable values. It also imbues their work with a rare tenderness for the social and historic fabric of the city. Built on such a solid foundation, their architecture is only likely to grow in depth.