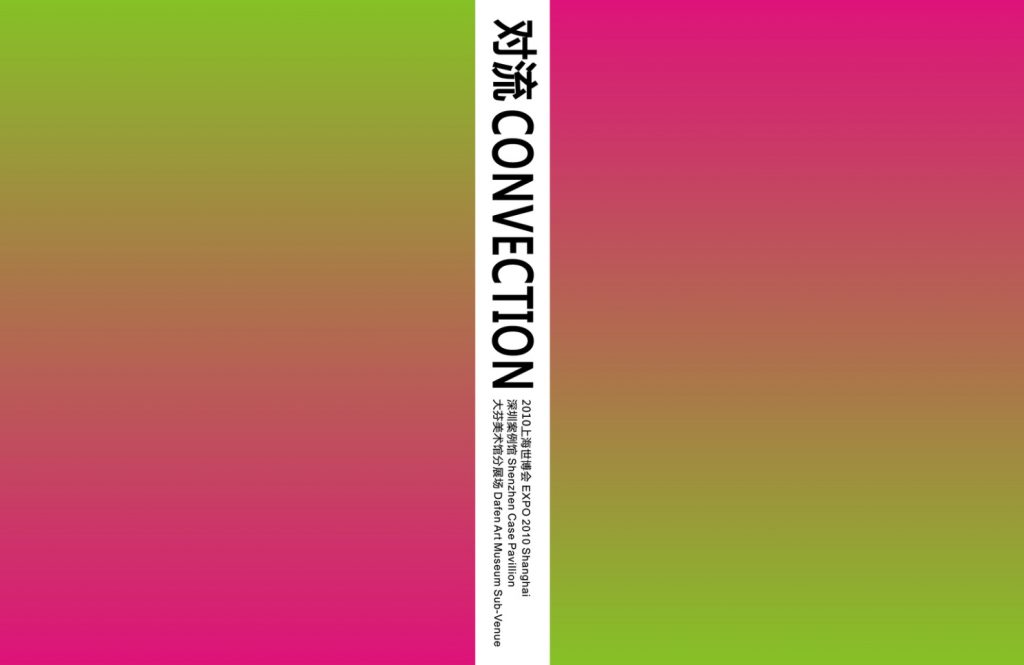 Meng Yan, Chief Curator of Shenzhen Case Pavilion of Shanghai Expo
Having been planned for quite a long time, Dafen International Contemporary Art Exhibition is a contemporary art event envisioned as early as 2005, when the design of Dafen Art Museum commenced. Compared with the countless contemporary art events being held elsewhere, it is clear from first sight that the Dafen Exhibition is unique for its location — Shenzhen Dafen Village, an urban village renowned for its ubiquitous oil painting business — where an exhibition seems most unlikely to take place. Furthermore, the exhibition is held right at Dafen Art Museum, the biggest "village-level" art museum in China, or even the world, located in a contemporary urban village.
Convection occurs due to variation in density or energy, the cause of which can be either natural or forced. The greater the variation, the more rapid the convection. As realized in the early stages of curation, it is the massive conceptual conflicts triggered by this exhibition that position it somewhere between "reasonable" and "ridiculous." Among the exhibits, some feature serious, reasonable analysis and interpretation, while others feature intelligent, humorous parody and criticism. Convections are thus generated through variation and conflict between the participating artists and the exhibition venue, between a contemporary art concept and the local art ecology, between a one-time art event and the urban life in Dafen Village and Shenzhen.
While Shenzhen credits its economic miracle of the last three decades to a systematic economic reform supported by the entire nation, the long-term push for a breakthrough has turned the city into an "economy animal" instead of a "cultural machine." With wealth and confidence in the economy as well as destitution and inferiority in culture, this front-running city lacks a driving force for further development. The profit-oriented development philosophy of "Economy Goes Before Culture" has led to an unclear and powerless positioning of culture. Moreover, thirty years later, Shenzhen is still regarded as what it was in the early years of its rapid and rough development, with constant voices still considering Shenzhen a "cultural dessert" from which art cannot grow. In fact, what Shenzhen lacks are rich deposits of traditional culture. How could a thirty-year-old city not have its own culture? How could it not have a unique mode of expression, notable in the contemporary art world? The dearth of culture stems from our long existing prejudice against it — we either refuse to observe, or deny what we have discovered.
Dafen International Contemporary Art Exhibition removes the veil that has long covered the elites of the cultural and art world. It returns the artists back to reality, and allows them to respond to the city's transformative rush and its superficial phenomena; it is a touchstone of contemporary art. The ignorance, disdain and discrimination against Dafen Village mirror the cultural prejudice and cliché ideas that are rooted deeply in people's minds. Fortunately, the works of all participating artists confront the bizarre cultural characteristics of Chinese cities today through the case of Dafen Village. Unlike various contemporary art exhibitions, artists use multiple yet direct ways of intervention to portray Dafen Village, or even Shenzhen, in the "here and now." While the "@Dafen" event is a sampling of the status quo of art in Dafen Village, it is also an attempt to fully depict the on-the-spot art production scene.
The entire exhibition consists of two parts, "Theme Exhibition" and "@Dafen," which are presented in the Dafen Art Museum in a meaningful way. With "Theme Exhibition" on the second floor and "@Dafen" on the ground floor, it should not be difficult to create convection, as the exhibition itself fits well the architectural space and the preliminary design idea for the building. In terms of spatial structure, Dafen Art Museum is designed into a "sandwich": a white box in the middle, typical of art museum space; the lower level, parallel to the street, is designed to accommodate open shows, trade fairs or oil painting fairs; openings on both levels allow the two different modes of art production and display to interact and "convect." The truth, however, is that this vertical "convection" does not work smoothly, as the top-down spatial structure is often associated with an implicit hierarchy. More importantly, exhibitions on both levels appear quite isolated from each other and become two independent events. The initial idea was to showcase a hundred pieces of artwork done in Dafen Village and scores of Dafen commercial oil paintings together in the 8,000sqm exhibition hall on the second floor; works of invited artists based on Dafen Village would be presented in several independent exhibition halls scattered throughout the 8,000sqm. Today, such a layout may work better with our original intention of "convection"— horizontal "convection" may be easier to achieve, and may more truthfully depict the current art and cultural ecology of Dafen Village.
Contemporary art should be of anti-elite and unorthodox nature. Unfortunately, however, in today's over-commercialized cultural context, art ideas and methodologies which should remain uninhibited are over-packaged by global investments, and have gradually been tamed into a well-trained, elegant and popular pet. This is truly an awkward, tragicomic situation — as the auction price in China's modern artwork market is rising gradually, the social and cultural value of modern art is dreadfully slumping. Given such a market environment, many artists are losing social awareness and the courage to face reality. Nevertheless, the national, international and Dafen local artists participating in this exhibition show enormous passion, persistence and professionalism. Through their works, they carefully and critically they re-examine and reinterpret the status quo of Dafen and the entire city of Shenzhen.
Dafen, International, Contemporary, Art, Exhibitions — the collage of these words is full of meanings, conflicts, tension and compromise. It is not hard to image what would happen if the word "Dafen" were replaced by any other more elite "international" name of a place, such as Venice, 798 or Songzhuang in Beijing. In fact, the charm of this exhibition lies in the actual plight associated with this word: it bewilders people who have never heard of Dafen Village, while those who know it try hard to deny any connection with the place. This exhibition is meant to generate unlimited possibilities which can be interpreted in a multitude of ways, through the participating artists' surprising, incredible, hilarious and serious ideas. Just as "Kang Tan Po Re Rui A Te (康坦泼热瑞阿特)", an art installation at "Theme Exhibition," interprets the situation of contemporary art in Dafen Village, this exhibition, through laughter and criticism, randomly but precisely pinpoints the crux of the relationship between art and reality.
As the on-site art event under the Shenzhen Case Pavilion of the Shanghai Expo, the "Convection Exhibition" carries special meaning. Its approach is one of forced convection that allows artists, scholars, managers, architects and ordinary citizens to re-focus on Dafen Village and the urban issues that surround it. This approach reminds us that, once we get rid of our long-existing prejudice, we will have more acute perception, and this can benefit us profoundly. Dafen Village, as well as the unique reality of China's urbanization that it represents, should be given serious consideration and research. In reality, Dafen's twenty years of development from rural to urban has not only been pushed forward by the government's guiding policies and the top-down support from the international commercial market, it has also been supported by the local initiative that aggregates power in a bottom-up fashion — such convection of power has transformed Dafen Village and its art industrial ecology into what they are today. At this very moment, contemporary art should find ways to express such a complex cultural phenomenon. It should never be confined to an art museum; instead, artwork should extend to avenues and alleys, and form a direct dialogue with the fast urbanization of its context. Isn't the entire Dafen Village and even Shenzhen a piece of contemporary artwork that encompasses all? In this sense, Dafen Art Museum is no longer a building; instead, in unison with the entire Dafen Village, it creates the most actual and optimal environment and showroom for "Convection: Dafen International Contemporary Art Exhibition."