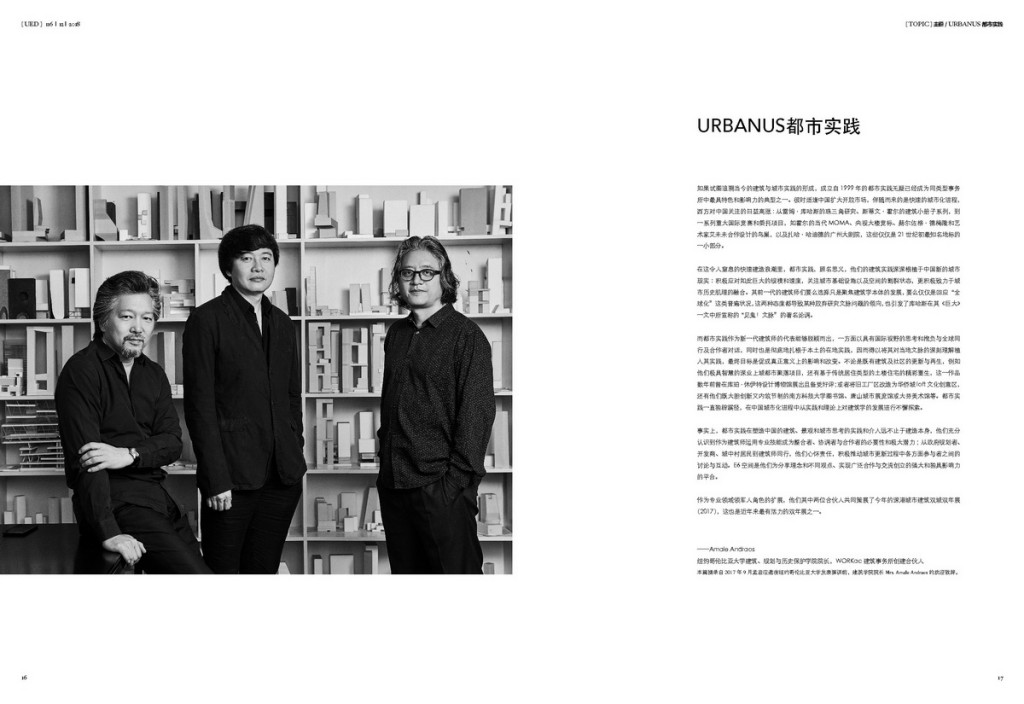 Welcome everyone to our second evening lecture of the semester. I am thrilled to introduce tonight Meng Yan and his Shenzhen-based practice Urbanus, which he co-founded with his partner Xiadou Liu.
If this semester's lectures are an attempt to trace how architectural and urban practices are today constructed, Urbanus has no doubt emerged as one of the most interesting and influential model of its kind since its founding in 1999. Around that time, forays into China's opening up and the accompanying rapid urbanization that resulted were proliferating in the west – from Koolhaas' research on the Pearl River Delta, to Holl's Pamphlet Architecture series, and to the start of significant international competitions and commissions – Holl's Linked Hybrid, the CCTV international competition, the Bird's Nest which brought together HdeM and the artist and activist Ai Wei Wei or Zaha Hadid's Guangzhou Opera House – to name but a few of the most significant icons of the beginning of the 21st century.
Amidst this breathtakingly fast building boom, Urbanus – as the practice's name suggests – develops an architecture that is deeply embedded within the new Chinese urban condition – registering its speed and embracing its scale, but also recognizing its infrastructural and connective gaps and actively engaging its historical fabric. While a previous generation of architects chose to advance architecture either only in relation to itself or only in relation to generic conditions – such as globalization for example – and with both positions leading to a certain disinvestment from the question of context – leading to Koolhaas's famous 'Fuck Context' which he declares in his essay Bigness – Urbanus emerges instead as leading a new generation of architects that is both entirely global in its thinking and ambition, as well through its conversations amongst colleagues and collaborators around the world – but is also entirely embedded in a localized practice able to channel its deep knowledge of the context it is operating in toward affecting real change.
Whether they are breathing new life into existing buildings and neighborhoods – as with their thoughtful Shum Yip Urban Village Project , their beautiful rehabilitation of the old housing typology of the Toulou Housing Project, which was exhibited at Cooper-Hewitt a few years ago to great reviews, or their transformation of an old industrial neighborhood into the OCT- Loft Cultural Complex, Or whether they are intervening with a combination of boldness and restraint as with their buildings for the Science and Technology Library University of ShenZhen, the Tangshan Urban Planning Museum, or the Dafen Art Museum, Urbanus is singlehandedly advancing architecture as practice and as discourse within the completely uncharted territory that is Chinese Urbanization.
In fact, their practice and engagement in shaping the architectural landscape and urban thinking for the country goes beyond building: realizing both the need and potential for architects' to bring their skills as synthesizers, coordinators and collaborators, they have embraced a sense of responsibility in facilitating discussions across a spectrum of actors that range from government planners to, developers, residents of urban villages as well as colleagues – architects engaged with urban redevelopment – to share ideas and concerns through their gallery E-6, formed as a strong and unique platform for collaboration and exchange.
Extending this role as leaders shaping the field, this year the two partners are co-curating the ShenZhen Hong Kong Biennial of Urbanism and Architecture, one of the most energized biennale that has emerged in recent years.
— Selected from the welcoming address of Mrs. Amale Andraos, the Dean of the Columbia University Graduate School of Architecture, Planning and Preservation before Meng Yan being invited to deliver his speech in Columbia University in September 2017.