From Labyrinth to Stacked Verticality
Text_Meng Yan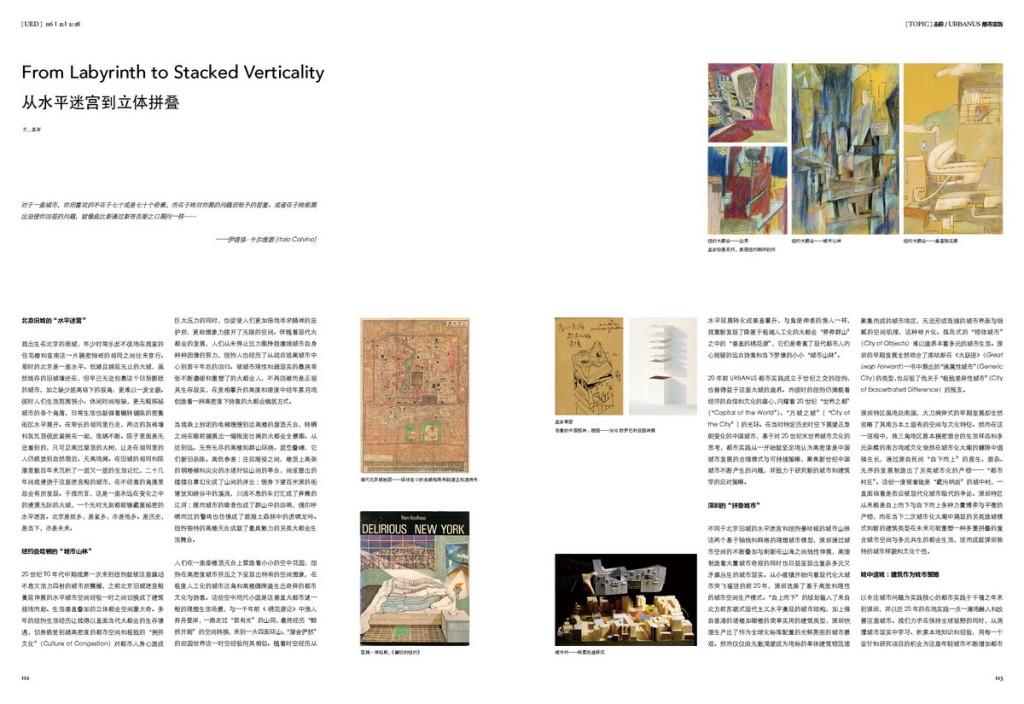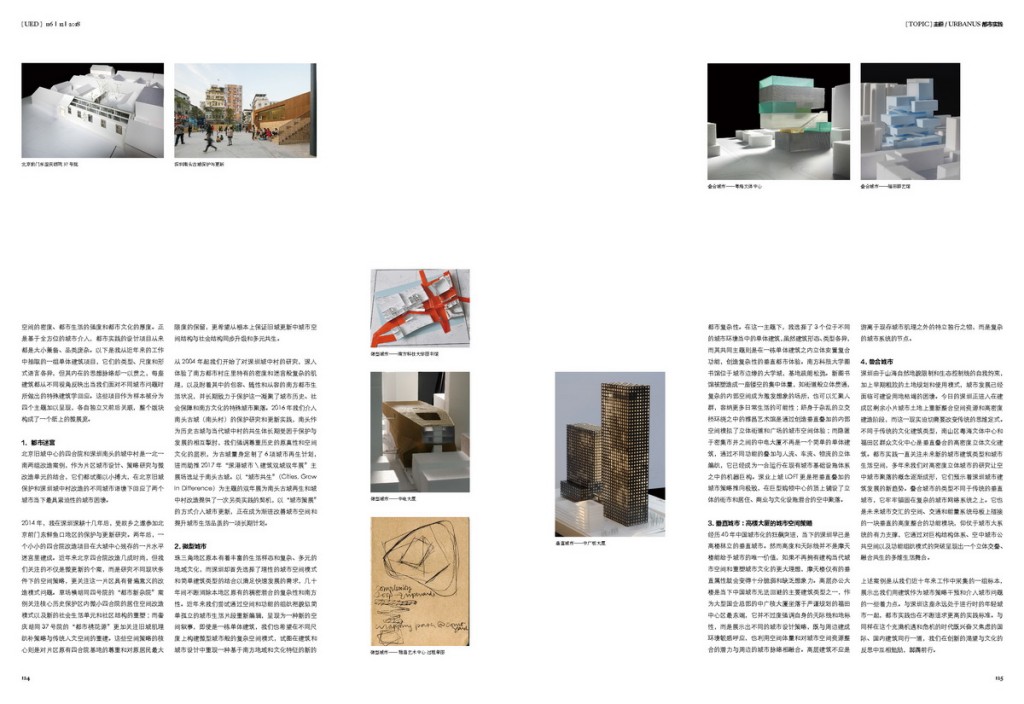 You like a city not because of her seven or seventy wonders, but due to her answers to your questions. Or maybe because she can ask questions you have to answer, just as Debbies asks questions through the mouth of Sphinx……
——Italo Calvino, Italian journalist and writer (1923-1985)
The "horizontal maze" in the old Beijing city
I was born in southern Beijing. When I was a kid, I often traveled to and from my residential buildings and the dense hutong neighborhood to the south of the Xuanwu Gate. At that time, Beijing was a sprawling city with myriads of low-rise buildings. Although the remnants of the city walls still existed, they were no longer able to contain the ever-expanding city. Given the lack of existing building height, it was difficult to influence a vista of the cityscape from high above. At that time, the residents had only small living spaces and they did not have much leisure time, so it was less likely for them to explore all the places of the city. Mundane daily life continued in this way within the densely populated neighborhoods.
While walking in the narrow alleys, one could see gray brick walls and gray tile roofs overlapping one another and extending far and wide. It was impossible to take a glimpse of the interior courtyards. Only the trees inside towering over the roofs were visible giving passers-by a touch of nature and a view of the expansive sky. For over hundreds of years, the hutongs and courtyards in the old city have been accommodating the memories of lives in the neighborhood. For over two decades, when I roamed in this maze-like part of the city, I could even find something new within negligible corners. For me, this is a vast and ever-changing city, a horizontal maze that can preserve secrets forever. Beijing is my hometown, but it is always unfathomable. The past, the present and the future are all held within Beijing.
The "city forest" in Manhattan, New York
When I first came to New York in the mid-1990s, I was amazed by this turbulent yet vibrant city. The maze-like, horizontal cityscape of Beijing switched to a vertical one thronged with skyscrapers. It was almost a montage-like experience. My years of experience living in New York have allowed me to face the realities of this contemporary cosmopolitan city. I had hand-on experience with the ultra-high density urban space and the extreme "Culture of Congestion". I have seen the tremendous physical and mental pressure that urbanites lived within. At the same time, I've noticed that New York also prompts people to seek spiritual sanctuary and ignite their imagination.
Along with the growth of the modern metropolis, people have never stopped their attempt to escape the iron grip of the cities. New Yorkers have also experienced a U-turn of escaping from the city center after WWII to coming back decades later. The residents in the metropolis, after being reshaped by the urban rationality and surrealist quirkiness, no longer try to evade but face squarely the reality of their existence. Over the years, they have added a sense of poetry to their lives while fervently pursuing new heights and increase in speed.
When a closed elevator chamber slowly brought me to the rooftop of a high-rise building, a magnificent panorama of the metropolis immediately spread out before my eyes. Numerous skyscrapers, far and near, old and new, rising to different heights, formed a rolling mountain range. When you take a close look, the steep steel staircases and the slender water towers atop the buildings are comparable to the pavilions on mountains, a familiar sight in China. The white mist that occasionally emerged was like clouds floating through the mountains. Hundreds of meters below, the numerous vehicles were like a creek in a canyon, and their beaming lights merged into a surging torrent; the noises of the city were just like echoes in the mountains. The occasional sirens from vehicles speeding through was reminiscent of the roaring of tigers in this concrete forest. The breathtaking sights on the rooftops of New York proved to display an amazing tableau of the cosmopolitan life.
People have created small hanging gardens on the rooftops of the high-rise buildings. New York provides incentives for unique spatial imagination due to being a space-starved metropolitan. A strange urban culture with a poetic touch has risen in the extremely artificial city corners and in the gaps between high-rise buildings. These small gardens high above are ideal vibrant paradises in this vertical metropolis. My experience was very similar to the fisherman a thousand years ago who discovered the "Peach Blossom Colony" described in ancient Chinese literature: He got off his boat and passed through a cave where a faint light glimmered. Then he finally embraced "a flood of light" and feasted his eyes on "a wide, level valley with houses, fields and farms" that was surrounded by mountains. Having experienced the horizontal sprawl of Beijing, I have discovered a "rooftop Peach Blossom Colony" in New York, a city of prevalent vertical development. It was a tantalizing urban forest that modern urbanites could only dream of.
URBANUS was established 20 years ago in New York at the turn of the century and has benefited from the nourishment of this mega-city. At that time, New York was still full of economic confidence and cultural ambition, reaping the glory as the "Capital of the World" and the "City of Cities" in the 20th century. Based on the consideration of the global urban culture and the fast-changing Chinese cities at the end of the 20th century, URBANUS is convinced right from the beginning that high density is a reasonable model and sustainable strategy for China's urban development. Based on this, we seek to solve the problems that continuously arise in Chinese cities and we are committed to exploring new strategies to solve urban and architectural issues.
The "Stacked City" of Shenzhen
The city of Shenzhen differentiates itself from the horizontal maze of the old city of Beijing and the urban forest of Manhattan in New York which both use the ideal urban model based on axes and the grid. Shenzhen is linearly stretched between the mountains and the sea through the continuous superposition and renewal of its urban space, which creates a vast number of urban wonders that arise at a dizzying pace. At the same time, it is increasingly giving rise to a thorny mix of urban conditions. In the first 20 years of transformation from a small town to a glamorous big city, Shenzhen adopted an efficient and rational production model of urban space. The top-down mode of planning introduced an urban structure of spreading horizontally, a typical mode in North China that was influenced by the Soviet-style modernism. This, combined with the simple and practical "tower + podium" paradigm borrowed from Hong Kong, contributed to the quick production of Shenzhen's breathtaking cityscape that lives up to the global standard.
However, an urban area that is rapidly aggregated by a cluster of individual buildings eager to be landmarks cannot form a continuous urban landscape or a refined spatial texture, as it is difficult for this fragmented, isolated "City of Objects" to sustain diversified urban life. The early development of Shenzhen is in line with the "Generic City" type that Rem Koolhaas proposed in his book, Great Leap Forward, and has also fulfilled his prophecy of "City of Exacerbated Difference".
Although Shenzhen is located in southern China, its explosive development in the early stage totally ignored the innate spatial and cultural features of South China. However, in this process, the diverse community (densely mixed used community lifestyle) and the cultural mix of the Pearl River Delta region still fought for its existence in the rising tide of urbanization. Through the original, hybrid, disorderly, bottom-up development, the grass-root community has produced "urban villages", a different kind of product of urbanization. Once considered hideouts of iniquity, these "urban villages" have always faced the debate for whether they should be revamped into modern city blocks.
Shenzhen has always been a product of checks and balances between various top-down and bottom-up forces. An alternative city-building models and new building types that emerged in the ongoing second wave of urbanization may reshape a complex urban space of superimposition and hybrid metropolitan life, thus creating a unique urban landscape and cultural identity of Shenzhen.
City-in-city: Architecture as a urban strategy
URBANUS, a firm that is committed to solving urban issues, opened an office in Shenzhen in 2000. With nearly 20 years of effort, it seeks to improve the city as an integral part of the firm. While maintaining its global perspective, it constantly learns from local urban conditions and accumulates local knowledge and experience. With each design and research project opportunity being taken, URBANUS makes an effort to increase the density of urban space, provide better conditions for urban life and add luster of urban culture to this young city. Seeking an all-round participation into the progress of the city, URBANUS undertakes design projects of various kinds and sizes for a balanced progression of the city.
I would like to introduce to you a group of individual architectural projects that I have done in recent years. They are different in terms of type, scale and architectural languages, but the underlying philosophy remains unchanged. Each building reflects an architectural solution to a specific urban issue from a particular perspective. These projects will be cited as examples to address four themes, each being independent and mutually connected, and all together they will create a micro-exhibition launched on paper.
1. Urban maze
The quadrangle dwellings in the Old City of Beijing and the "urban village" in the Nantou Old Town of Shenzhen are two examples of urban renewal. Involving urban design, strategic research and reconstruction of small properties, these efforts try to solve the urgent dilemmas that the two cities face in their respective architectural contexts in spite of the limited spaces available.
In 2014, after working in Shenzhen for a decade, I was invited by my hometown to work for the protection and renewal of the Dongqianyukou area in Qianmen, Beijing. Two years later, a small quadrangle house renovation project was done in a horizontal maze that remained in the center of the city. In recent years, this quadrangle house renovation has been gaining increasing popularity in Beijing, but we do not only care about individual cases of micro-renewal, but also the spatial strategy under different current conditions. More importantly, we pay attention to the issue of renewal models that show universal significance in this area.
In the case of the "New Urban Courtyard", the renovation project of the No. 4, Caochang Heng Hutong is a showcase of the model of living space reconstruction in a small quadrangle house within core historical preservation areas and of the reshaping of new units of social life and community structures. The project of "Urban Peach Blossom Colony" in No. 37, Zhaoqing Hutong pays attention to the strategy of remedy for old city textures and the reconstruction of traditional spaces with a humanist touch. The key point of these spatial strategies is showing respect for the original quadrangle houses in their areas and maximizing the preservation of the original residents. We also expect to fundamentally guarantee the following improvement and co-existence of urban spatial structures and social structures in the renewal of the old city.
Ever since we started our research on the "urban village" in Shenzhen in 2004, we have examined its unique maze-like texture and compact layout and experienced the friendly, casual, slow-paced life that is typical in southern China. We have made it our long-term commitment to preserve this special urban settlement that is a living museum of urban history, local life style and regional culture. In 2016, we undertook the protection and renovation project of the Nantou Old Town (Nantou Village) in Shenzhen. Nantou, exists as a synthesis of a historic town and a contemporary "urban village" and has long been plagued by the conflict between heritage preservation and urban development. To show respect to the authenticity of historic architecture and the cultural heritage the area has to offer, we proposed six urban revitalization programs tailored for the old town. In 2017, we chose the old town as the seat of the Bi-City Biennale of Urbanism\Architecture.
By addressing the theme of "Cities, Grow In Difference", this event provides an opportunity for carrying out alternative practices in the renewal of the Nantou Old Town and the transformation of "urban villages". As an effort for urban renewal in the form of "city curation", the Biennale has proved to be a long-term plan for the gradual improvement of urban spaces and the quality of urban life.
2. Micro City
Historically, the Pearl River Delta region was home to a fascinating mosaic of life styles and culture. However, Shenzhen first chose a combination of rational urban space patterns and simple building types to meet the needs of its rapid development. But the move was at the cost of the hybrid nature of the habitats and its cultural identity as a place in southern China. In recent years, we have tried to revive the seemingly simple but isolated and fragmented urban life through spatial and functional organization in an effort to blaze a new trail of development. Even in a single building, we hope to apply to complex spatial models to re-establish them as micro-cities and recreate a brand-new urban complexity based on the cultural landscape of southern China through architectural and urban design. Under this theme, I chose three single buildings in different urban environments. Although the buildings are different in their shapes and types, they have something in common: Accommodating composite functions within a single building and creating a vertical, complex urban experience.
Located in the university town on the edge of Shenzhen, the Southern University of Science and Technology Library sits on an expansive ground plot. The new library is ahollow but concentrated structure, where all parts of it are connected with each other by passages, making the complex interior a space that inspires imagination. It can also be a gathering place that is open to more possibilities of daily life. The Yachang Museum of Art is surrounded by a clutter of overpasses, however it simulates the urban space experience of three-dimensional streets and squares by creating vertically superimposed interior spaces. The Shenzhen CLP building tucked in the high density cityscape is not just an individual building, but has become a giant machine operating in the existing urban infrastructure system by superimposing different functions that arrange the flow of people, traffic, and logistics. The Upper Hills LOFT promotes the urban strategy of vertical superimposition to the extreme. It has introduced a three-dimensional market and a settlement with residential, commercial and cultural facilities.
3. Vertical City: Urban Space Strategy for High-Rise Buildings
After 40 years of a robust wave of urbanization, Shenzhen is now a vertical city filled with high-rise buildings. However, skyscrapers do not only provide an urban skyline and height to a city. If the practitioners no longer have the higher ideal of constructing contemporary urban spaces and reshaping urban culture, the only vertical attributes of skyscrapers will become mundane and unimaginative. The high-rise office building is one of the main types of buildings that is inevitable in Chinese cities. The CGN Building, which houses the headquarters of large state-owned enterprises, is located at the eastern end of the rigorously planned Futian Central District. It does not over-emphasize its skyline or its landmark identity; rather, it demonstrates a different urban design strategy that echoes with the surrounding built environment and also utilizes the spatial volume and potential for integrating urban spatial resources with the surrounding urban landscape. High-rise buildings should not stray away from the existing urban fabric, but serve as components of a complex urban system.
4. A city of vertical superimposition
The urban development in Shenzhen is plagued by a lack of constructible land given the restrictions from its natural geomorphological conditions and environmental preservation. Its extensive land planning and use from earlier years have further compounded the problem. Today, Shenzhen is entering a stage of re-integrating spatial resources and high-density construction on the small remaining urban sites in developed areas. Faced with such a reality, we need to change the traditional mindset. Apart from the traditional architectural type for cultural facilities, the Nanshan District Yuehai Cultural and Sports Center and the Futian District Mass Cultural Center are high-density three-dimensional buildings of vertical superimposition.
URBANUS always focuses on future urban building types and urban living spaces. Over the years, our research on high-density three-dimensional cities has gradually shaped the concept of aerial urban settlements, which will lead to a new trend in the development of Shenzhen's urban architecture. Different from a traditional vertical city, a superimposed city is firmly anchored in a complex urban network system. It is comparable to a highly integrated functional module plugged into a motherboard of intersecting spaces, traffic and energy systems of a futuristic city. Relying on the strong support of the city's macro-system, it presents a multi-dimensional living stage of three-dimensional overlapping and symbiosis by making breakthroughs in the giant structure system, rooftop public spaces and organizational model of functions.
The cases cited above are from projects we have done in the past ten years. They represent how we use architecture as a city strategy to address urban issues. By drawing inspiration from the ever-changing passion of this youthful city, URBANUS constantly aims to reach for new heights. Together with our international and domestic peers who are both excited and anxious in an era of opportunities and crises, we hope that we can always support each other while upholding our beliefs in innovation and cultural reflection.