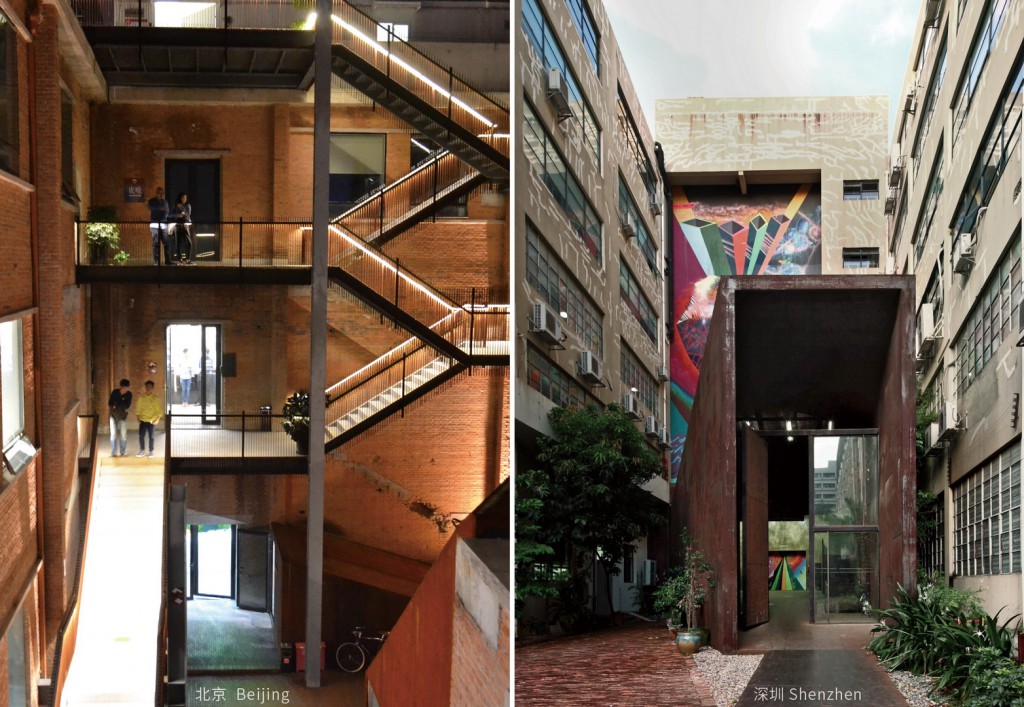 Founded in 1999, URBANUS is recognized as one of the most influential independent architecture practices in China. More than a design practice, Urbanus is also a think tank. It aims at formulating architectural strategy from the urban environment and its ever changing conditions. Urbanus has always focused on the urban realities in China and seeks architectural solutions based on its research of emerging urban problems.
Urbanus have completed numerous important architecture and urban design projects since its inception. The built works cover the range of culture & education, office buildings, residential & commercial buildings, landscape design, renovation/regeneration projects, public art installations, etc. Some of the most recognized projects include the Luohu Art Museum, Dafen Art Museum, the OCT Art & Design Museum, Artron Art Center, Tulou Collective Housing, Maillen Hotel & Apartment, Hui Hotel, Library and Gymnasium of South University of Science and Technology, CGN Headquarters Building, SHUM YIP Upper Hills LOFT, OCT Loft Renovation, Nantou Old Town Preservation and Regeneration, The Environmental Upgrade of the Five Dragons Temple in Shanxi, Tangshan Museum Expansion, Tangshan Urban Planning Museum, The Grand Canal Creative Center, 2019 Beijing Botanic Garden of International Horticultural Exhibition, Xihoudu Early Human Archaelogical Site, Beijing Historical Quadrangle House Rehabilitation Series, etc.
Urbanus' architecture delivers unique identity while respecting the existing urban fabric with sensitivity. Many built works have become new landmarks of urban life. Urbanus' works have received numerous prominent awards, such as WA Chinese Architecture Award, THE PLAN Award, The ARC ASIA Awards for Architecture, China Architecture Media Award, Architectural Record Awards and have been shortlisted for Aga Khan Award for Architecture. Urbanus have drawn international recognition due to its sensitivity to urban, historical, and social structures, its integration of potential spatial and social resources, and its effectiveness in responding to the complexities of the urban environment.
Urbanus' works have been exhibited internationally in New York, London, Paris, Milan, Berlin, Venice, Lisbon, Sao Paulo, Barcelona, Tokyo, Rome, Rotterdam, Brussels, Vienna, Hong Kong, Singapore, Taipei etc. The office has also received extensive coverage and publication from world-renowned architectural and design media.
Urbanus is now further streamlining its design and research platform, and exploring global multi-disciplinary collaborations. Urbanus's research unit (UPRD) is primarily focused in urban strategy, design, curation and research. UPRD has conducted a series of research projects, including topics such as the typologies and social networks of urban creative clusters, or the hyper-dense urban renewal, preservation, and regeneration processes unfolding within urban villages and historic areas.
Urbanus has established a proficient project management system as well as an experienced design implementation team. Currently, Urbanus has offices in Shenzhen and Beijing. Under the URBANUS approach, the three founders all serve as design principals, each leading the design and research projects independently, with the aim to deliver more diverse and innovative works into the future.
(video with 8.5 minutes)
MEDIA:
Meng Yan interview. 21 Years in Shenzhen – URBANUS. Architectural Practice. Feature: The Story of Shenzhen – Forty Years of Practice 2020(11) 90-101
The welcoming address of Mrs. Amale Andraos, the Dean of the Columbia University Graduate School of Architecture, Planning and Preservation in Columbia University, September 2017.
In Modern China, 'Little Kingdoms' for the People——New York Times. 2008-10-13
AWARDS
2023 Organizing Committee Award of the 9th Bi-City Biennale of Urbanism/Architecture
2022 Gold Award of Glow Shenzhen
2021 Blueprint Awards - Public-Use Project with Public Funding - Shortlisted
2021 City for Humanity Awards 2020 – Public Space & Community Revitalization - Shortlisted
2021 Wallpaper* China Design Awards – Best Public Building
2021-2004 Multiple Shenzhen/Guangdong/China Engineering Reconnaissance Design Awards
WA Chinese Architecture Award - Housing Award - Winner
WA Chinese Architecture Award - Achievement Award - Shortlisted
WA Chinese Architecture Award - Social Equality Award - Shortlisted
2020 THE PLAN AWARD Special Projects Winner (Completed)
2020 THE PLAN AWARD Landscape Winner (Completed)
2019-2020 Architectural Design Award of ASC - Urban Design, Historical and cultural, Public Building Projects
2019 International Urban Project Award (IUPA) Special Prize
2018 ASC Architectural Creation Award - Silver Award
2018 the ARC ASIA Awards for Architecture (AAA) Conservation Projects - Honorable Mention
2018 IDEAT FUTURE AWARD——Pioneer of the Year
2018 Organizing Committee Award of the 7th Bi-City Biennale of Urbanism/Architecture Excellent Works Award
2017 THE PLAN Award -"Winner of Public Space"
2016 WA Chinese Architecture Award | Achievement Award - Winning Award
2016 WA Chinese Architecture Award | Social Equality Award- Honorable Award
2016 WA Chinese Architecture Award | Design Experiment Award – Shortlist
2016 the ARC ASIA Awards for Architecture (AAA) Public Amenity: Social / Institutional Buildings
2016 The PLAN Award "Honorable Mention of Culture"
2015-2016 The 6th Bi-City Biennale of Urbanism / Architecture Independent Jury Awards-Silver Award
2014 DesignBoom TOP 10 Temporary Structures
2012 Shortlisted for the 3rd China Architecture Media Award, the Best Architecture Prize
2012 Best Residential Project & Best Preservation Project,Architectural Record China Awards 2012(two projects award)
2010 Best Public Project, Architectural Record China Awards 2010(two projects)and Project of the Year
2008 WA Chinese Architecture Award "Winning Prize" & "Honorable Mention"
2008 China Architecture Media Award, Residential Architecture Special Prize
2007 T+A Annual Prize of Architectural Design Organization
2006 Business Week / Architectural Record China Awards- Best Public Project
2005 Architectural Record | Design Vanguard
2004 WA Chinese Architecture Award "Honorable Mention" & "Merit Award"
EXHIBITIONS
2021 Shenzhen Design Week, SHUM YIP UpperHills
2021 Chinese Pavilion of 17th International Architecture Biennale Venice
2020 "Beyond Architecture", the Sea World Culture and Arts Center, Shenzhen
2020 "Values of Design: China in the Making", Shenzhen World Exhibition & Convention Center
2019 "Fu [+] Infill Plan", UABB, Shenzhen
2019 "Home•Guangzhou Mengsheng House Renovation", UABB "New Bay Trend", Shenzhen
2019 "New in Old"-the "Urban Renewal" Thematic Exhibition, Beijing Design Week
2019 "Fu [+] Infill Plan", Seoul Biennale of Architecture/Urbanism
2019 Saint-Etienne Design Biennale, Saint-Etienne, France
2019 UNKNOWN CITY: China Contemporary Architecture and Image Exhibition, Shenzhen
2018 China Design Exhibition & Public Art Thematic Exhibition, Shenzhen
2018 Map Game – Forty-nine Stories in the "Four Nine City", Serpentine Pavilion Beijing
2018 the "Green Action" Series, Beijing Design Week
2018 Aedes "SHENZHEN-ness: Space in Mutation", Berlin
2018 "Vertical Fabric: Density in Landscape" Hong Kong Pavilion of International Architecture Biennale Venice
2018 Reconstructing Utopia——Architecture and Art Exhibition, Shenzhen, Anren, Shanghai
2018 "URBANUS: The Research, Practice and Ideal of Urban Village", Shenzhen
2017 Chicago Architecture Biennial (CAB) 2017 "Make New History", Chicago
2016 China House Vision at Venice Architecture Biennale 2016
2016 Dragon Rebirth—2016 Beijing Design Week
2016 House for the Craftsmen—2016 Beijing Design Week
2016 "BOOK-ARCHITECTURE" EXHIBITION, Seoul
2016 GSD Autumn architecture exhibition——From "Experimental Architecture" to "Critical Pragmatism": Practice of Contemporary Individual Architects in China
2016 Aedes ZAI XING TU MU- Sixteen Chinese Museums Fifteen Chinese Architects, Berlin
2016 China Design Exhibition——"Urban Router_Zhongdian Complex" , Guan Shanyue Art Museum, Shenzhen
2015 URBANUS Hyper Metropolis – Speculations on Future Hybrid Lifestyle, 2015 UABB, Shenzhen
2015 Shenzhen Contemporary Architecture Exhibition, 2015 UABB, Shenzhen
2015 Main Exhibition of Shanghai Urban Space Art Season 2015, Shanghai
2015 Projective Preservationism: Preconditions and Strategies for the Future of Beijing Qianmen Hutongs——2015 Beijing Design Week"Design Hop", Beijing
2015 The Long Plan Exhibition——2015 Beijing Design Week, Beijing
2015 House for the Craftsmen——2015 Beijing Design Week "Dashila" Exhibition, Beijing
2015 "New York-Beijing-New York, 2015 Chinese Contemporary" Exhibition
2015 ZAO/Architecture china Exhibition, Lyons
2014 BCN RE.SET – IDENTITY PAVILION, Barcelona
2014 Chinese Pavilion of 14th International Architecture Biennale Venice, Venice
2014 Chengnan Project Qianman East Area 2014 exhibition, Beijing
2014 Beijing Design Week, Beijing
2014 Architect Wang Dahong's House on Jian-guo S.Road, Get it Louder Exhibition, Beijing
2013 OCT-LOFT Creative Festival 2013 Exhibition"Design Edge: Inside / Outside" , Shenzhen
2013 Bi-City Biennale of Urbanism\\Architecture (Shenzhen) Collateral Exhibitions, Shenzhen
2013 Bi-City Biennale of Urbanism\\Architecture (Hongkong) Exhibitions, Hongkong
2013 West Bund 2013: A Biennale of Architecture and Contemporary art, Shanghai
2013 Rediscover OCT-Loft Mapping Exhibition, Shenzhen
2013 Palace of China-Architecture China 2013, Segovia
2013 Domus Exhibition & dialogue BODY> Architecture over 100 Years, Beijing
2013 "Eastern Promises" exhibition, Vienna.
2013 2020: Housing China Exhibition, HongKong
2013 Spectacle-12presentations of contemporary museum architecture in china, Shanghai
2013 The New Originality exhibition, Guangzhou
2012 Exhibition "Book and Architecture, Tokyo
2012 Architecture China-The 100 Contemporary Projects: 2012 "Year of Chinese Culture", Reiss-Engelhorn Museen (REM), Mannheim
2012 GA International 2012,GA Gallery,Tokyo.
2012 "From Beijing to London: Contemporary Chinese Architecture", London
2011 VERSO EST Chinese Architectural Landscape, MAXXI Architecture Gallery, Rome
2011-2005 "The Shenzhen & Hong Kong Bi-City Biennial of Urbanism/Architecture", Shenzhen, Hong Kong
2011 "Daring Design", Rotterdam
2011 "Beijing Design Triennial",China National Museum, Beijing
2011 Chengdu Biennale - Holistic Realm: Landscape/Urbanism/Architecture, Chengdu
2011 "Our Cities Ourselves" ITDP Exhibition, Architecture Center, New York / Guangzhou
2010 "Com-pass"-Three Narrative about the Past Ten Years, Beijng / Shanghai / Chengdu / Yantai
2010 "Taking a Stance-8 Positions", Beijng / Shanghai / Chengdu / Shenzhen
2009-2010 "Chinese Gardens for Living, Europalia 2009", The Square, Brussels
2009-2010 "Building from Heart, Europalia 2009", The Square, Brussels
2008-2009 "Solos-Tulou: Affordable Housing for China", Cooper Hewitt National Design Museum, New York
2008 "Building China", Architecture Center, New York
2008 "Exhibition of Chinese Contemporary Architecture", Paris/Barcelona
2007 "Lisbon Architecture Triennial", Portugal Pavilion, Lisbon
2006 "China Contemporary "Architecture, Art, Visual Culture, Rotterdam
2005 "The 26th Sao Paulo Biennial", Sao Paulo
2005 "The 2nd Guangzhou Contemporary Art Triennial", Guangdong Museum of Art, Guangzhou