Urban Design Stage
Project Manager: Lin Yilin
Team: LI Congyi, LIU Kan, ZHANG Xuejuan, Wendy WU | WANG Yanfeng | (Internship) TIAN Lin, ZHENG Na, WANG Yifan, HAN Siying
Location: Nantou Old Town, Shenzhen
Project Period: 2016
Site Area: 282,637 ㎡
Floor Area: 34,070 ㎡
Landscape Area: 65,788 ㎡
Façade Renovation Area: 25,700 ㎡
Client: Nanshan District Government, Shenzhen Design Union
Building Renovation Stage
Project General Manager: Lin Yilin,
Project Architect: Rao Enchen, Milutin Cerovic
Project Manager: Zang Min
Architecture Team: YOU Donghe, JIANG Qingzhou, LIU Kan, ZHENG Zhi, CHEN Hui, LI Congyi | LIAO Mengjun, SHEN Chen, ZHANG Chaoxian, WANG Yanfeng, PENG Yuxin, DAI Fuping | (Internship) YANG Haozhou, XIAO Shihao, WENG Yongqi, CAO Jun
Landscape Team: WEI Zhijiao | LI Guanda, XU Xiao | (Internship) CAI Qi, LIU Yunong, HAN Ke
Exhibition Illustration Design Team: ZHANG Yun, Wendy WU | LIU Kan, ZHENG Zhi, WEI Minglu (Internship), Nicolas Carmona Guzman (Internship) | WEN Ting, ZANG Min, ZHANG Yingyuan | (Internship) LIU Miaoqi, XIONG Yuxuan, WANG Chao, ZHAO Yiran
Location: Nantou Old Town, Shenzhen
Project Period: 2016-2017
Site Area: 38,150 ㎡
Floor Area:12,485 ㎡
Landscape Area: 24,469㎡
Collaborators:TSINGHUA-YUAN Architecture and Planning Design and Research LTD. Shenzhen (Construction Design)
Shenzhen Republic Design & Engineering Co., Ltd. (Interior Construction Design)
Client: Nanshan District Government
Construction agency: Shum Yip Land Investment & Development Co., LTD. (Shenzhen)
Chief Curators for the Urbanism + Architecture Section of 2017 Shenzhen-Hong Kong Urbanism\ Architecture Bi-City Biennale (Shenzhen) : MENG Yan, LIU Xiaodu
Images©UABB, ©URBANUS, ©Wu Qingshan
Photographers: Zhang Chao, Wu Qingshan, URBANUS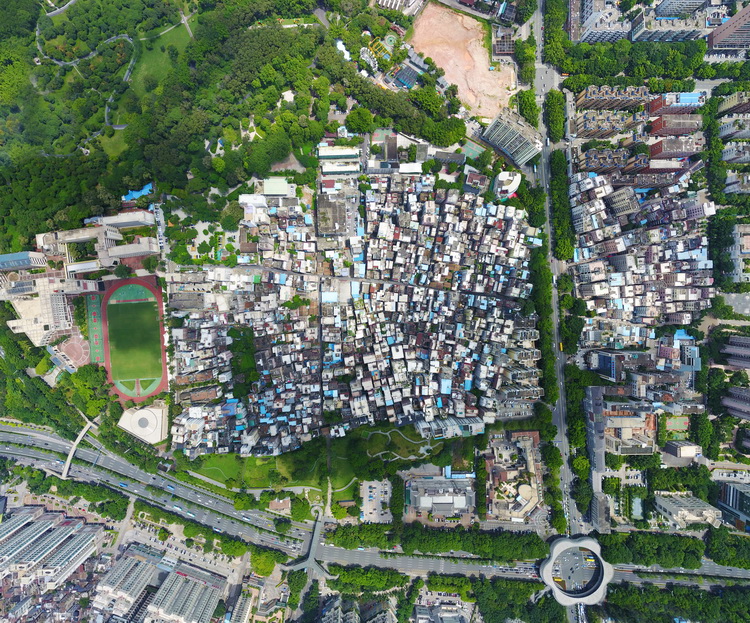 Aerial View of Nantou Old Town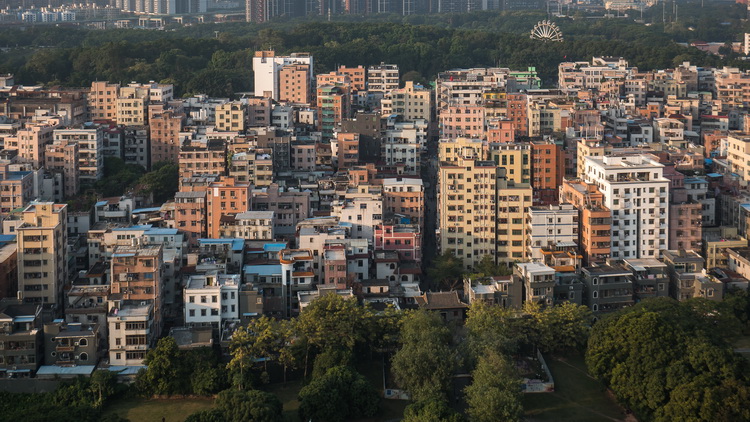 Aerial View of Nantou Old Town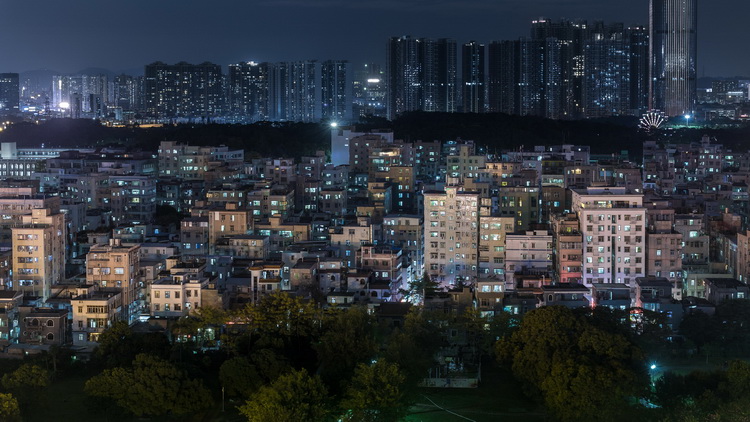 Aerial View of Nantou Old Town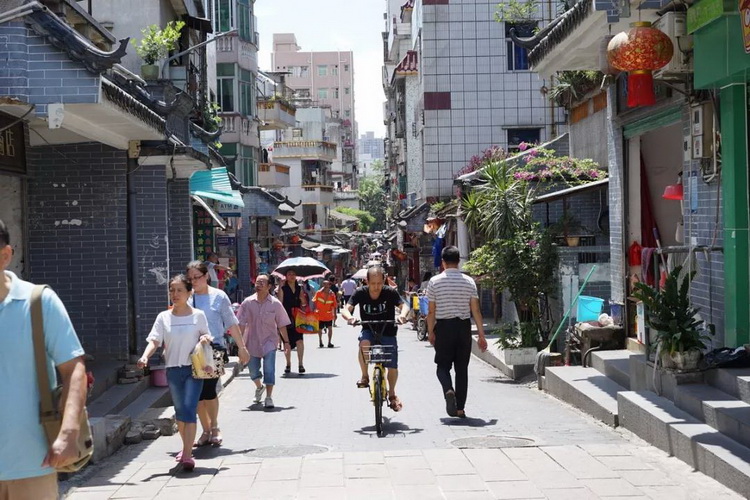 Status of Nantou Old Town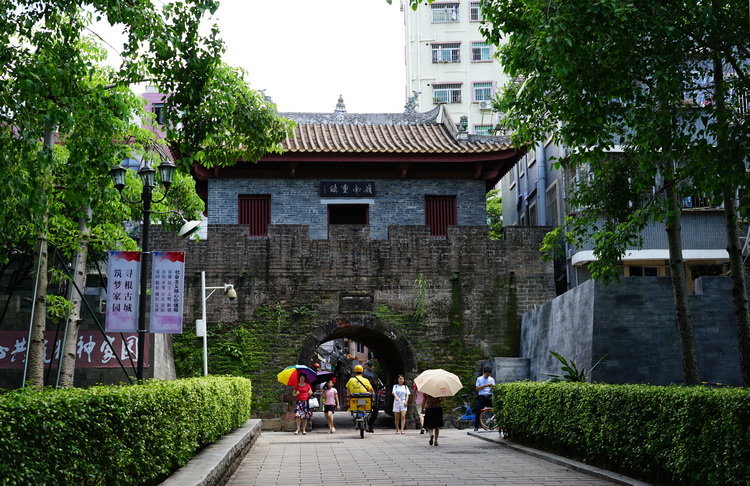 The Southern Gate of Nantou Old Town
Based on the preliminary study on Nantou, Urbanus proposed a development model of introducing cultural events, preservation, intervention and regeneration. Adapted to local conditions, we drafted six tailor-made regeneration plans which can be implemented at a later time: Parks and Gardens Revival Plan, City Boundary Redefinition Plan, Historical Building Preservation Plan, Main Street Navigation Plan, Creative Factory Plan and Inner City Dynamic Regeneration Plan. These projects mainly focus on the renovation of key public spaces and the introduction of public activities as part of the process of activating and promoting the regeneration of the Old Town. Later on, after sufficient field investigation, urban design and research work, we came up with the idea to propose Nantou as the main venue of 2017 UABB in the biennale venue selection process.
After consensus was made on the venue, further field surveys and research into Nantou's history helped us to find a narrative line on which spatial renovation and the exhibition implementation could highly coincide. A series of renovations along with this narrative line will, with most effective interventions, have minimum interference with the daily life of local residents. They will improve the public space quality of the Old Town to a maximum effect, while leaving enough room for future development.

2017 UABB Venue Renovation Plan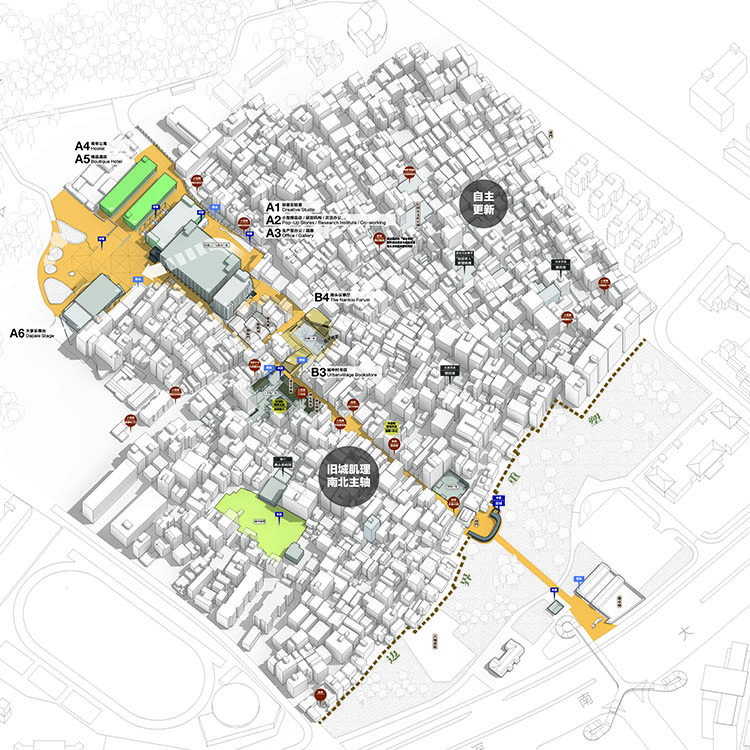 Nantou Old Town Concept Axonometric
The Nantou Old Town is located to the north of Shennan Avenue and south of Zhongshan Park. Built along a gentle slope, the Old Town used to be guarded by four gates in four directions. The northern gate was abandoned in the middle of the Qing Dynasty, and the northern street in the traditional county town's "Cross Roads" pattern lost its vitality ever since. Zhongshan Park to the north of the Old Town was the earliest public park in Shenzhen. It was built during the Republican era of China and features old, towering trees that attract many visitors. The wall surrounding the factory area constructed in the 1980s separated the park from the Old Town. We decided to reconfigure this critical node by extending South Zhongshan Street northward, restoring the traditional "Cross Roads" pattern and reconnecting Zhongshan Park, the Old Town and the Park outside the south gate. This step of spatial restructuring will be the starting point of future old town regeneration, beginning with a series of exhibition venues for the UABB, which will be rolled out along this main spine.
Following the urban design strategy of preservation and regeneration while locating exhibition spaces for UABB, we sought to reconstruct a public open space system in Nantou. Serving as an exhibition route, this system consists of both architectural spaces and outdoor venues. The exhibition venues are in five zones from north to south and extending out toward east and west: A. Factory Zone, B. Cross Road Zone, C. Southern Gate Zone, D. Historic Buildings Zone, and Chunjing Street Zone. The whole exhibition spatial narrative is formed with the following seven interlocking themes, like the structure of Chinese literature or drama.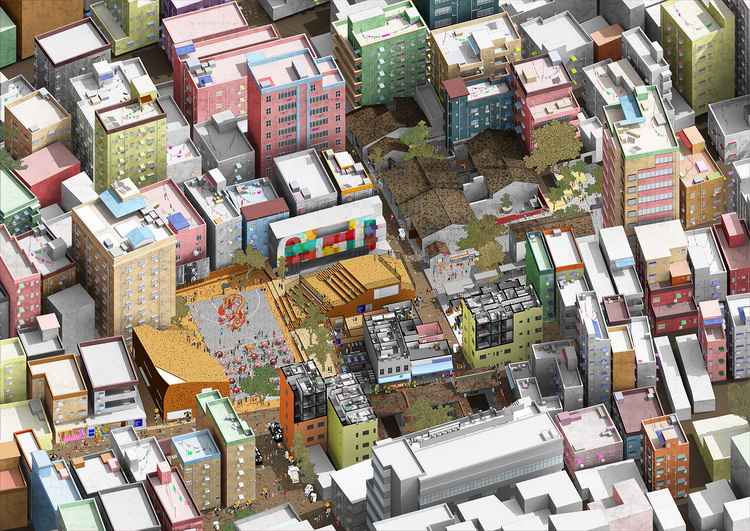 Axonometric of Cross Street Zone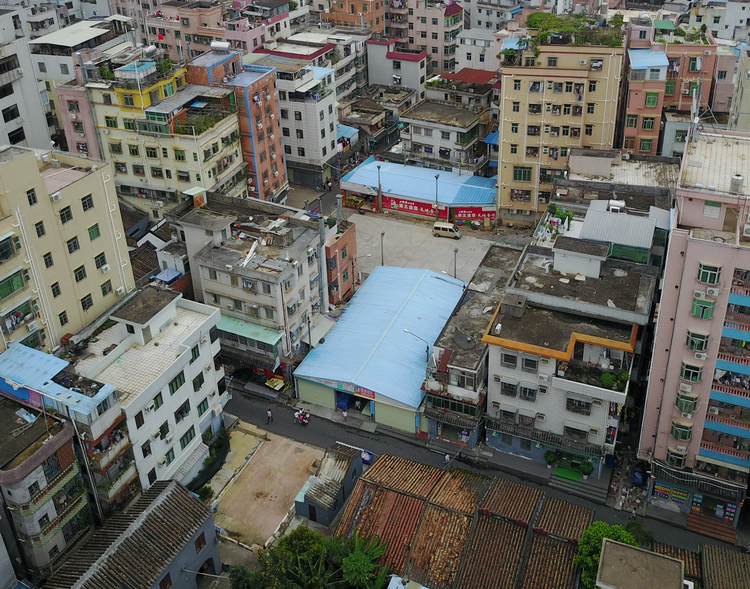 Aerial View of Cross Street Zone before Regeneration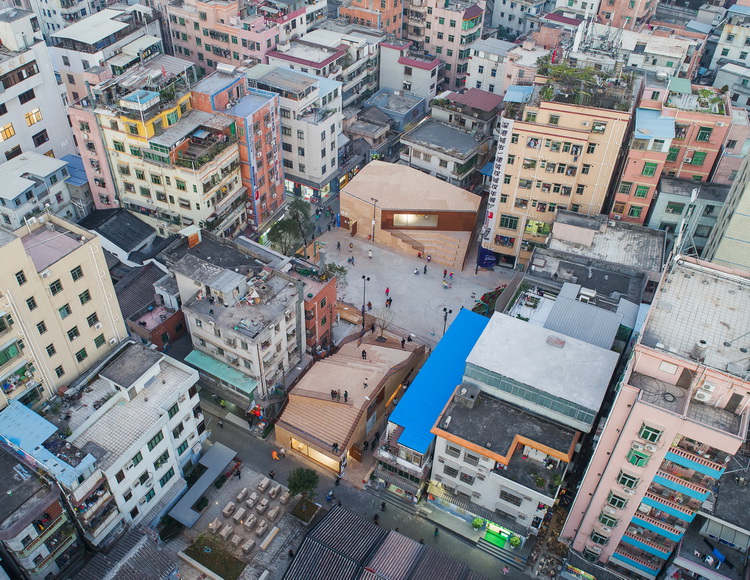 Aerial View of Cross Street Zone after Regeneration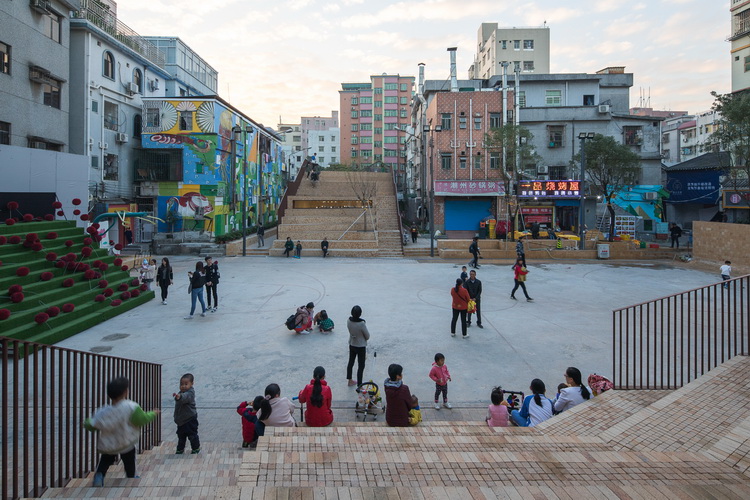 Baode Square After Regeneration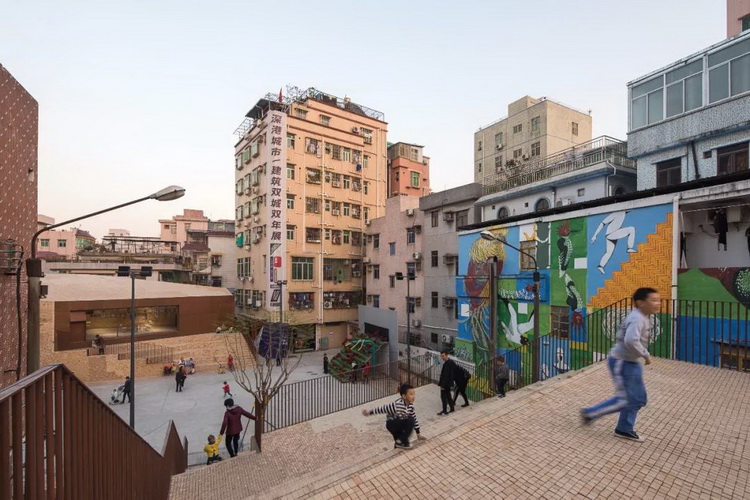 Baode Square After Regeneration

Baode Square After Regeneration (B3)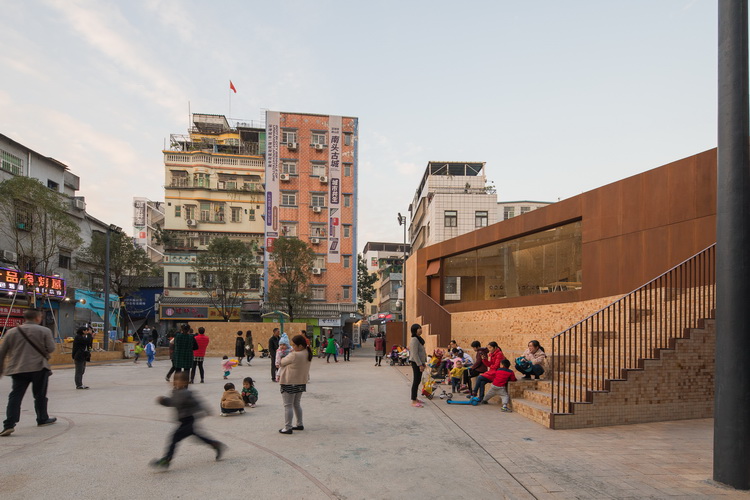 Baode Square After Regeneration (B4)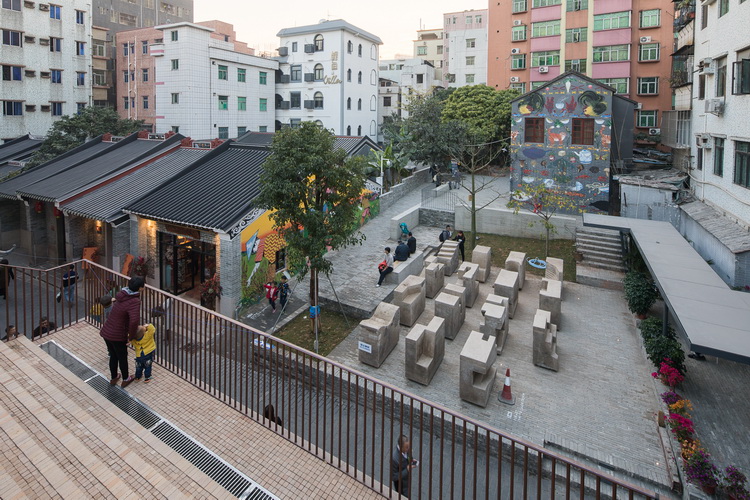 Cross Stree Zone After Regeneration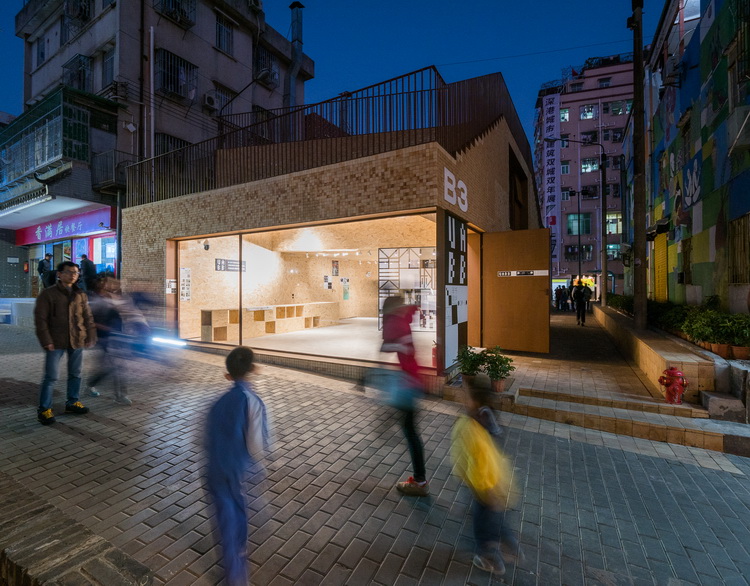 Streets around Baode Square after Regeneration (B3)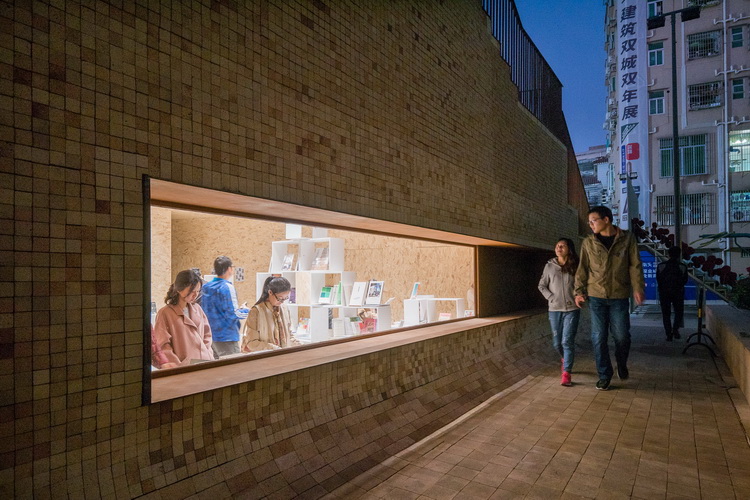 Streets around Baode Square after Regeneration (B3)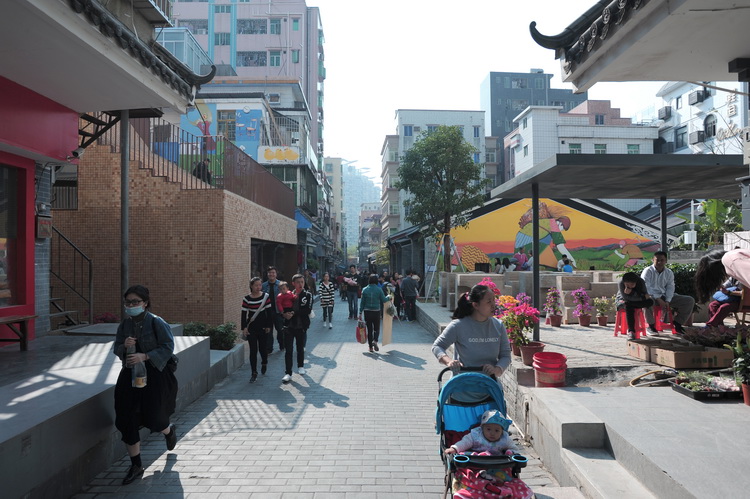 Cross Stree Zone After Regeneration


Interior of B4 Building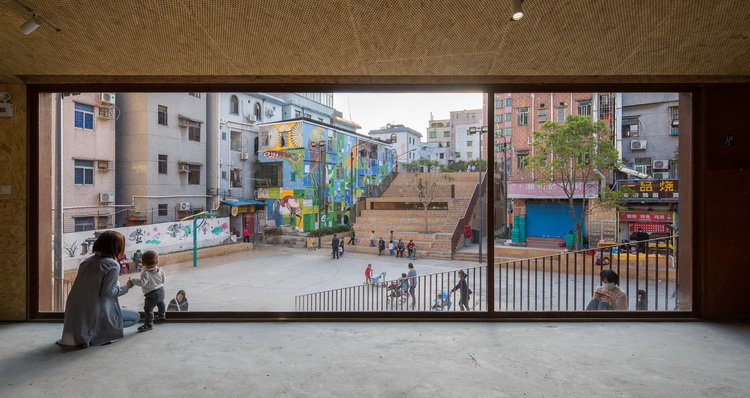 View of Baode Square from the Inside of B4 Building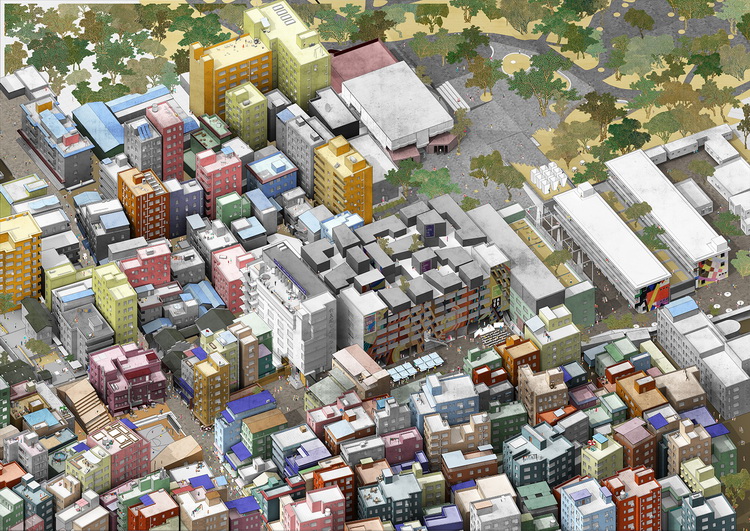 Axonometric of Factory Zone

The 1st floor Axonometric of 2017 UABB Exhibition Main Venue & Dajiala Stage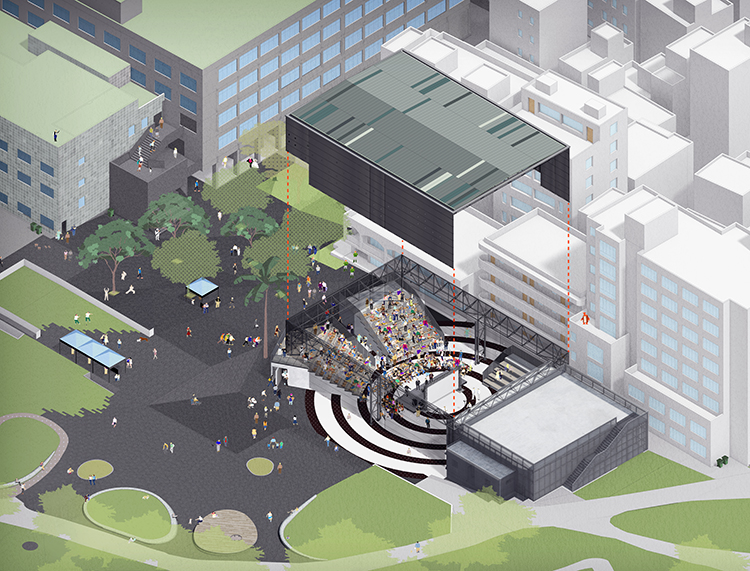 Axonometric of Dajiale Stage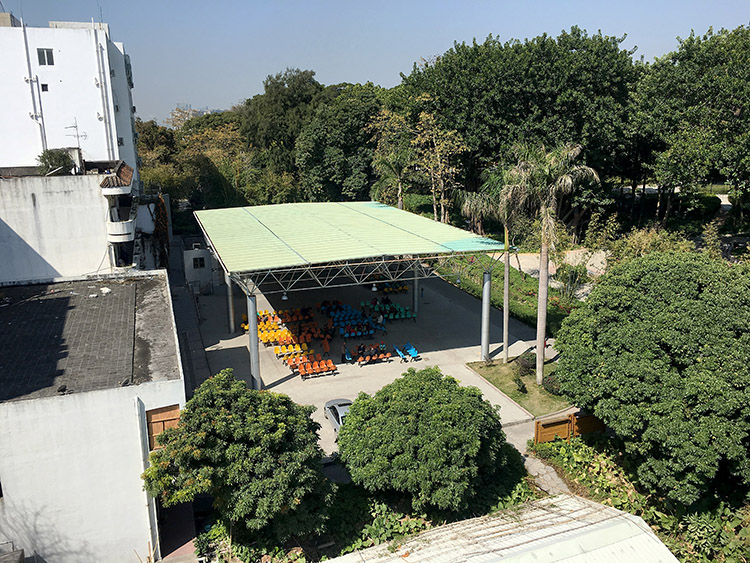 Dajiale Stage before Regeneration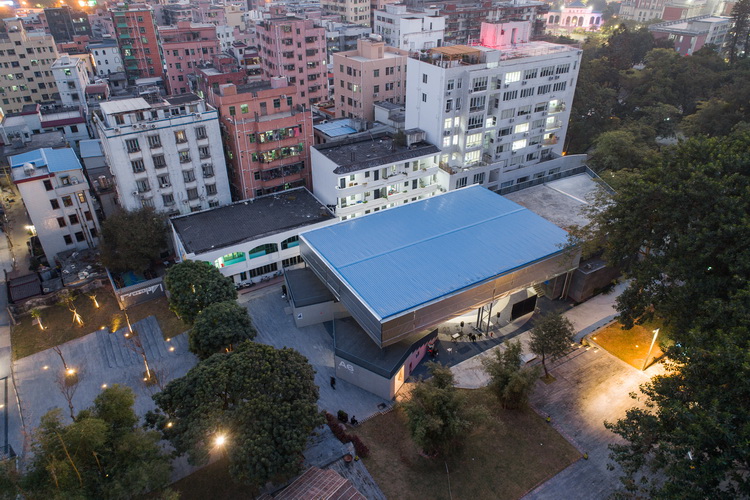 Dajiale Stage after Regeneration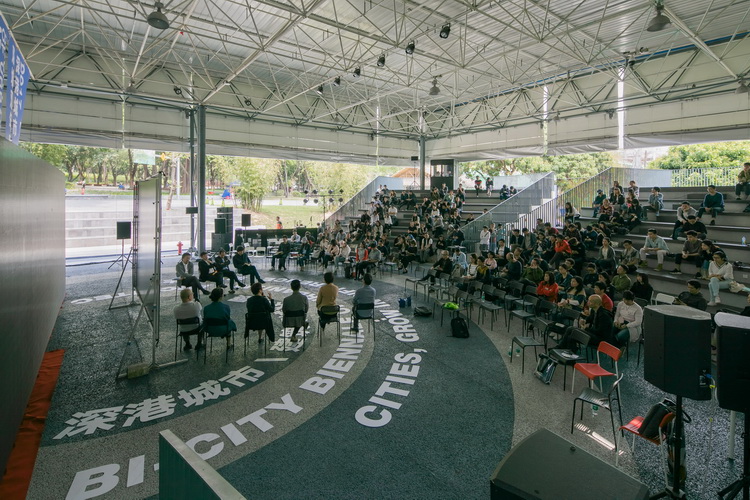 Dajiale Stage after Regeneration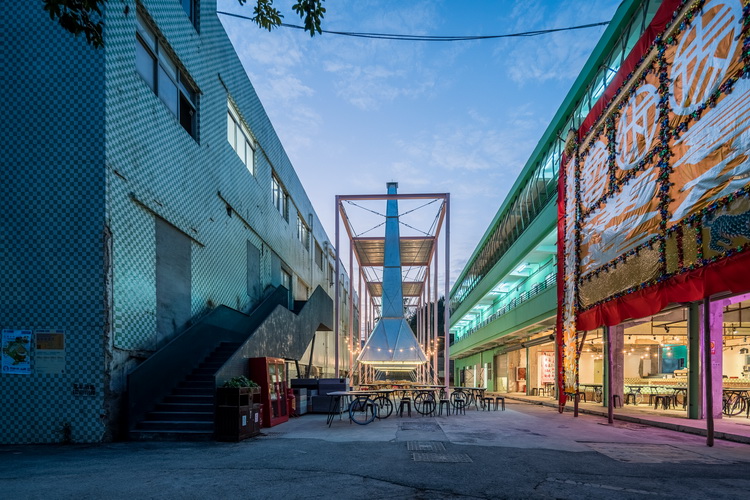 Factory Zone After Regeneration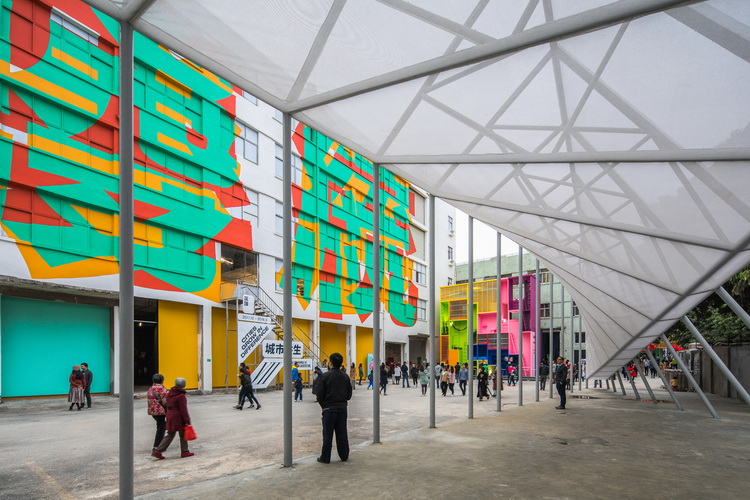 Factory Zone After Regeneration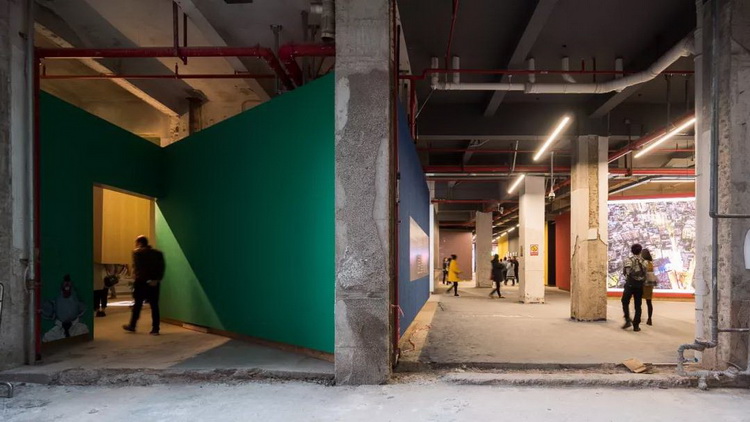 Factory Zone After Regeneration

Aerial View of Nantou Old Town – 2017 UABB Main Venue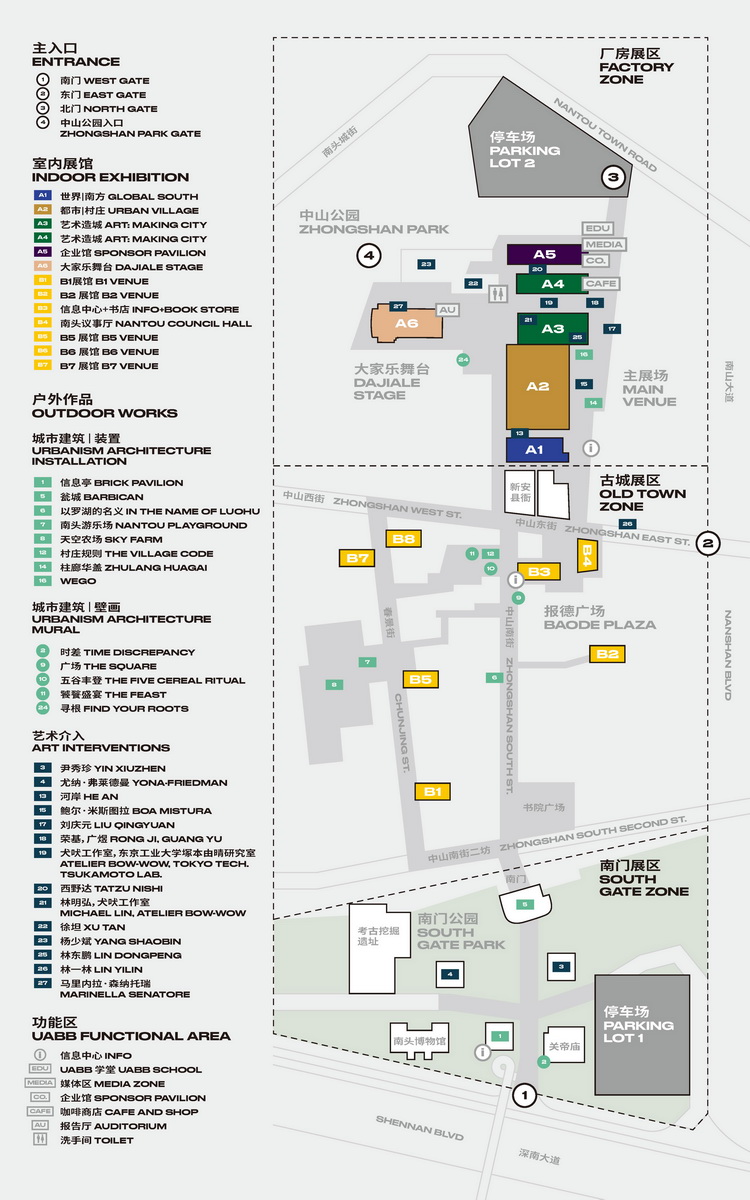 2017 UABB Exhibition Plan
The urban intervention of this UABB is highly consistent with the old town regeneration plan, through renovation for exhibition spaces, architecture and art interventions, and organized events to bring an alternative experimental opportunity for the regeneration of Nantou Old Town and the renovation of urban villages in general. "Urban curation", in contrast to the current urban renewal process, is a long-term strategy for the incremental improvement of urban spaces and the quality of urban life.
Publications:
孟岩 林怡琳 饶恩辰. 村/城重生 城市共生下的深圳南头实践. TA. 2018(3):58-64
都市实践.城市即展场,展览即实践. 风景园林. 2018(4):53-59
都市实践. 城市策展与更新:深圳南头古城改造. 有方建筑网站. 2018.09.05
都市实践. 南头古城+双年展展场改造,深圳. 谷德设计网. 2018.08.31
URBANUS. Renovation of Nantou Old Town and Architectural Design of UABB Venue, China. gooood website. 2018.08.31
URBANUS. Urban Design and Research of Nantou Old Town + Architectural Design of UABB Venue. Archdaily website. 2018.08.18
都市实践. 南头古城城市设计与研究+双年展展场改造. Archdaily建筑网站. 2018.08.06