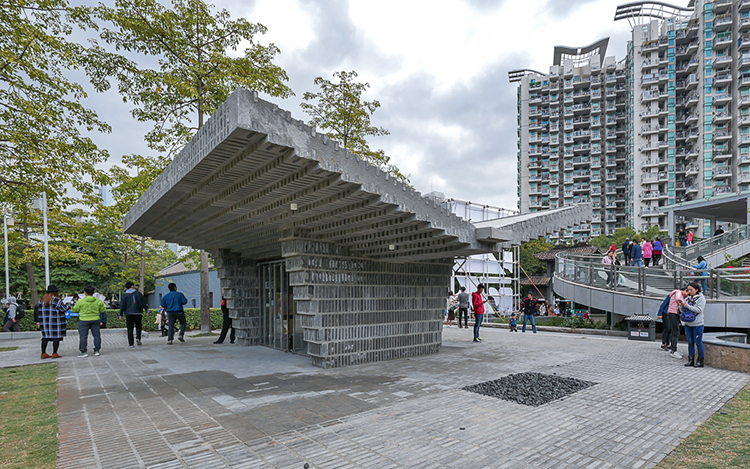 Exhibitor: Yung Ho Chang
Located at the entrance of Southern Gate Park, the Information Pavilion of 2017 UABB is the first stop for visitors. During the exhibition, the Pavilion will serve as a multi-functional facility for reception, inquiry, drink preparing/selling and leisurely stay. As a permanent structure, the Pavilion will be kept and serve a different function as a selling booth of Nanmen Park after the exhibition.
Bricks and concrete are main building materials of the Pavilion. While brick is a material which contains the least characteristics of the time and location, concrete is the most widely used construction material nowadays. The combination of both brings about an integrated structure with a special fabric and two different textures. A template made of roof reinforced bricks is poured together with reinforced concrete into a structural slab. The void space in great depth of the Pavilion is built with such "brick and concrete structure". An open spatial layout is employed in the Pavilion, whose diversified spaces under the eaves are integrated with the outdoor area to create some leisure space. The interior of the Pavilion is used by staff and four stainless steel counters are provided, including two for tourist reception. The floor paving is designed to echo with the landscape of the whole venue. Outfalls and a drain tanks help create the rain dropping view. In this way, the Pavilion not only enhances the visitor experience by providing a comfortable leisure space, but also positively impact the venue by improving the existing environment and protecting the natural vegetation.
Economic and technical indicators: building footprint is 75 square meters and the space under the eaves is 60 square meters, with the pavilion height of 3.6 meters, cornice height 3.2 meters and the lowest interior clearance 2.2 meters.